Misaka Tweak manager
Misaka tweak manager is the newly released non jailbroken method for iOS 17.2 to iOS 15 and it is an alternative for Zeon Repo extractor solution.

All Dirtyc0w tweaks can be installed through Misaka Tweak manager. At the moment you will be able to find two versions of Misaka

Misaka KFD and Misaka Dirtyc0w
You can download Misaka for iOS 17 - iOS 17.2 with below buttons
Supporting iOS versions for Misaka (KFD Exploit)
iOS 16.2 - 16.5 & 16.6b1, iOS 17 - iOS 17.2 beta, iOS 17.2 beta, iOS 17.1, iOS 17.0.3, iOS 17.0.2, iOS 17.0.1, iOS 17, iOS 16.6 Beta 1, iOS 16.5.1, iOS 16.5, iOS 16.4.1, iOS 16.4, iOS 16.3.1, iOS 16.3, iOS 16.2.1, iOS 16.2
Supporting iPhone Devices for Misaka (KFD Exploit)
iPhone 14, iPhone 14 Plus, iPhone 14 Pro, iPhone 14 Pro Max
iPhone 13, iPhone 13 Mini, iPhone 13 Pro, iPhone 13 Pro Max
iPhone 12, iPhone 12 Mini, iPhone 12 Pro, and iPhone 12 Pro Max
iPhone 11 Pro Max, iPhone 11 Pro, iPhone 11
iPhone Xs, iPhone Xs Max, iPhone XR

Supporting iOS versions for Misaka (Dirtyc0w)
iOS 17.2 beta, iOS 17.1, iOS 17.0.3, iOS 17.0.2, iOS 17.0.1, iOS 17, iOS 16.1.2, iOS 16.1.1, iOS 16.1, iOS 16.0.3, iOS 16.0.2, iOS 16.0.1, iOS 16,iOS 15.7.2, iOS 15.7.1, iOS 15.7, iOS 15.6.1, iOS 15.6, iOS 15.5, iOS 15.4.1, iOS 15.4, iOS 15.3.1, iOS 15.3, iOS 15.2.1, iOS 15.2, iOS 15.1.1, iOS 15.1, iOS 15.0.2, iOS 15.0.1, iOS 15
Supporting iPhone Devices for Misaka (Dirtyc0w)
iPhone 14, iPhone 14 Plus, iPhone 14 Pro, iPhone 14 Pro Max
iPhone 13, iPhone 13 Mini, iPhone 13 Pro, iPhone 13 Pro Max
iPhone 12, iPhone 12 Mini, iPhone 12 Pro, and iPhone 12 Pro Max
iPhone 11 Pro Max, iPhone 11 Pro, iPhone 11 iPhone Xs, iPhone Xs Max, iPhone XR
iPadOS 16 running iPad Pro (all models), iPad Air (3rd & later), iPad (5th & later), iPad mini (5th & later)
A8 / A8X – Phone 6, iPhone 6 Plus, iPad mini 4, iPad Air 2
A9 / A9X – iPhone 6S, iPhone 6S Plus, iPhone SE, iPad (2017) 5th Generation, iPad Pro (12.9 in.) 1st generation, iPad Pro (9.7 in.)
A10 /A10X – iPhone 7 and iPhone 7 Plus, iPad (2018, 6th generation), iPad (2019, 7th generation), iPad Pro 10.5″ (2017), iPad Pro 12.9″ 2nd Gen (2017)
A11 – iPhone 8, iPhone 8 Plus, and iPhone X
How to download Misaka KFD
Using the button below, you can download the Misaka KFD exploit online. Here you don't want the help of a PC
If you prefer downloading Misaka, Following discord channel will give you more information about misaka
How to download Misaka (Dirtyc0w)
At present, there is no online link (without PC) to install Misaka. You can follow the below guides to install Misaka on your iPhone.
How to install Misaka
After you download the Misaka iPA file, You can install Misaka with following sideload methods.
Install Misaka with Sideloadly
Step 01: Download and install Sideloadly
Step 02: Connect your device to Windows or Mac
Step 03: Drag the downloaded Misaka iPA file to Sideloadly
Step 04: Enter Apple ID and tap on start button to continue
Step 05: After that enter the Apple ID and password
Step 06: Wait until the installation complete
Step 07: Go to Settings → General → Profiles & Device Management → Tap on Apple ID → Tap on Trust.
Install Misaka with AltStore on Mac
Step 1: Download the AltStore app to your Mac.
Step 2: Double-click on the downloaded folder, unzip it. Move the unzip folder in to your application folder
Step 3: Open AltStore.
Step 4: In the top right of the menu bar, you will see the AltStore menu bar options. Select "Install Mail Plug-ins" here.
Step 5:Go to the mail and go to Preferences → Manage plug-ins and enable AltStore plug-ins. Then click on Apply.
Step 6: Connect your iOS device to the Mac. Trust your device, if you are connecting the devices for the first time
Step 7: In your Mac, go to the menu bar and click on AltStore. Then select Install AltStore.
Enter your Apple ID and Password.
Step 8: After the installation process is completed, AltStore will appear on your iOS device.
Step 09: Go to Settings → General → Device Management. Select your Apple ID and tap on "Trust".
You have successfully install Misaka tweak manager on your iPhone
How to install Misaka Tweak manager with TrollStore
Step 01: Download and install the TrollStore app
Step 02: Using the Safari browser on your device, download the Misaka IPA file.
Step 03: Tap on the share button in Safari browser and select the TrollStore icon to share the Misaka IPA file with the TrollStore app.
Step 04: Tap on the Misaka IPA install button in TrollStore.
Step 05: Wait for TrollStore to automatically install the Misaka IPA file on your iOS device.
Step 06: Once the installation is completed, you can open the Misaka app manager
Step 07: Customize your iPhone with Misaka Tweak Manager
Misaka Features

Misaka has a collection of features that enables you to customize the iPhone without jailbreaking. And Misaka has its own repository that lets you add sources from outside. But Cydia and Sileo repositories don't work with Misaka tweak manager.

You can customize your iPhone by adding repos to the Misaka app. First of all, open the Misaka app and tap on the source tab. Then open the source section. Now tap on the plus icon on the top right corner. Here you can add repos to Misaka app.
Misaka tweaks
Here are the best Misaka tweaks available right now.
Disable Homebar
Hide Homebar
Dock Color
Change Dock Color
ControlCenter Color
Change ControlCenter Color
LockScreen Icons
Coolwcat & US Ü3/ 1.0
Change LS UI
DialSound Piano
Coolwcat 1.0
Change dial sound to the piano
Enable Internal
システムをInternalモードに設定
RespringCC Shortcut
EÜ3/ 1.0
Install RespringCC before using
SpringAlert
US/ 1.2
beta alert and low battery alerts
CC WallPaper
Add the Shazam module before using
Font Apple Symbols
Fonts Apple Symbols. change character support MDC
LS UI YangJiti
Change the camera and flash icon
Font Clock Group 1 ( IOS16 )
Change clock font on ios 16
Radar
Show internal settings

Misaka Sources
These misaka sources have root tweaks, apps and themes.
TinyBoss
Betterave
misaka. App
Noxy
Coolwcat
YangJiii Repo's
Lemin
ichitaso
Kumiki
Sugiuta
Huy Nguyen
Dekotas
Aurora
Applicott

Misaka and Zeon Differences
Both Misaka and Zeon are non jailbroken solutions. Currently Misaka supports iOS 15 to iOS 17.2 and Zeon supports iOS 14 to iOS 17 and higher versions. Here are the other difference of Misaka and Zeon
Misaka is an iPA based method which takes much effort to install on iPhones, But Zeon is an online method that you can install easily.

Misaka needs help of a PC to complete the installation process, but Zeon can be installed without PC

In Misaka, you need to add sources to customize the features of the iPhone, Zeon has a repo extraction method to get jailbroken features.

It's a bit difficult to handle Misaka user interface but Zeon repo extractor uses much easier interface


New version releases
Misaka has recently released Misaka v3.2.5 and Misaka v3.2.4 with more updates. You can get more details about Misaka from this link

Icon themes support for KFD (unstable)
Statusmagic support for KFD
KFD support almost all tweaks from MDC that edit var
Improved usability of dependent packages
Reduced the time on start up in KFD Mode

Misaka v3.2.5 Released!
Misaka v3.2.5 released with following updates

Updated icon themes and are now fully functional when installed using TrollStore (+ System App)
TrollStoreHelper updated to 2.0.5
Fixed TrollStore permissions issue
Misaka v3.2.2 Released!
Misaka v3.2.2 released with more bug fixes
Misaka v3.2.1 Released!
Here's the latest version of Misaka with major bug fixes. Click here for more details.
Misaka v3.2.0 Released!
Misaka v3.1.6 Released!
Misaka Developers have released v3.1.6 with bug fixes. there's no major updates in v3.1.6
Misaka v3.1.5 Released!
Misaka v3.1.5 is the latest version you can download. Get more details from here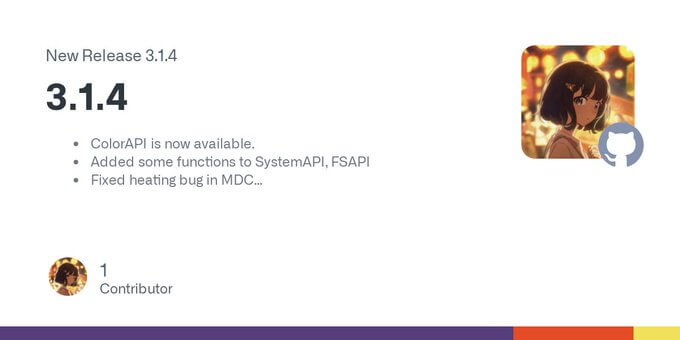 Misaka and Zeon FAQ
Question: What is the difference between Misaka and Zeon?
Answer: Misaka is a iPA based tweak manager and Zeon is a repo extractor

Question: Does Misaka support the latest iOS 17?
Answer: Yes, now Misaka can be installed on iOS 17

Question: Can we add Cydia and Sileo repos to Misaka sources?
Answer: No, you can't add cydia and sileo repos as it not supporting Misaka

Question: Which one is the easiest to install on iPhones?
Answer: Zeon repo extractor is the easiest solution you can install on your iOS device. In Misaka you need a Windows or Mac PC to complete the installation process

Question: Is Misaka a package manager?
Answer: No, Misaka is a tweak manager where you can add sources to get tweaks and other features

Question: Can we install Zeon with Sideload methods?
Answer: Zeon repo extractor can be installed without the help of sideload methods

Question: Is Zeon compatible wih iOS 14 and iOS 15?
Answer: Yes, Zeon initially released for iOS 14 and it is working well with iOS 15 as well